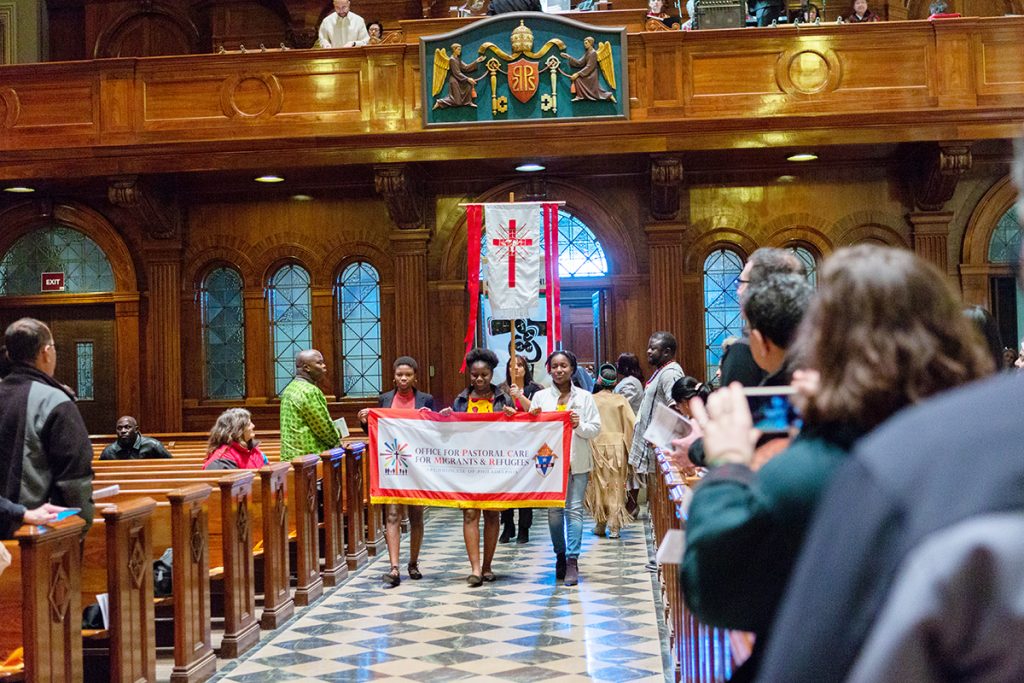 'Bless each act of welcome and outreach that draws those in exile into the "we" of community and of the Church,
so that our earth may truly become what you yourself created it to be:
the common home of all our brothers and sisters.'

Pope Francis
The Office for Pastoral Care for Migrants and Refugees (PCMR) facilitates the ecclesial integration and full participation of immigrants, refugees, migrants, and other ethnic groups in the life of the Church. The Archdiocese provides pastoral care to Catholics of diverse ethnic backgrounds through ethnic or personal parishes and through apostolates, which provide liturgical services and care to Catholics of various languages, cultures, and rites. In particular the office ministers to Asian, African, European, Caribbean, Brazilian, and Native American Catholics.
In the Archdiocese of Philadelphia, we have mass in 17 languages other than English or Spanish. The office currently supports Catholic immigrant and ethnic Church communities made up of people who come from the following countries: Brazil, Haiti, Poland, Portugal, Slovakia, France, Italy, Ireland, Nigeria, Kenya, Ghana, Francophone Africa, Liberia, India, Pakistan, Vietnam, China, Korea, Indonesia, and the Philippines. In addition the Office supports Native American Catholics and seafarers who temporarily stop in our shipping ports for their work. The Office is happy to collaborate with Priests, Religious, and lay people to address needs of communities who are newly arriving and may not currently not be supported by any ministerial outreach.
The main ministerial responsibilities for the Director are:
1. To make sure that each PCMR community has a priest that speaks their language and knows their culture and that each community has a parish to call home
2. To serve as a link between the Archdiocese and the PCMR communities to ensure that the communities are invited to, welcomed, and able to participate in any activity or ministry of the Archdiocese
3. To develop relationships with the PCMR priests, Religious Sisters, Deacons, lay leaders and community as a whole to know better their ideas, desires, and needs and how we can collaborate to bring them to reality
4. To create opportunities and space where the PCMR communities can share their talents, goodness, and gifts of faith and culture to build up the entire Church of Philadelphia
5. To act as a reference person for other social needs, linking people to needed services including immigration support and English and citizenship classes.
Latest News
Through the 'Support for U' program, Ukrainian newcomers receive help with applying for Social Security cards, finding housing, and obtaining an employment authorization cards among other assistance.

Under the new rules, Venezuelans who cross the border illegally are being be deported to Mexico, a move that will have "an immediate impact" on border communities, said Bishop Mark Seitz of El Paso.

Welcoming those fleeing their nations due to war, poverty, natural disasters and other risks is essential to loving God and neighbor, said retired Philadelphia Auxiliary Bishop Edward Deliman at an annual Mass honoring migrants and refugees.

Sending migrants to out-of-state cities, as two governors have so far done, "destroys society and shows how low individuals can (stoop) for personal gains," said San Antonio Archbishop Gustavo García-Siller.
Join us on Facebook